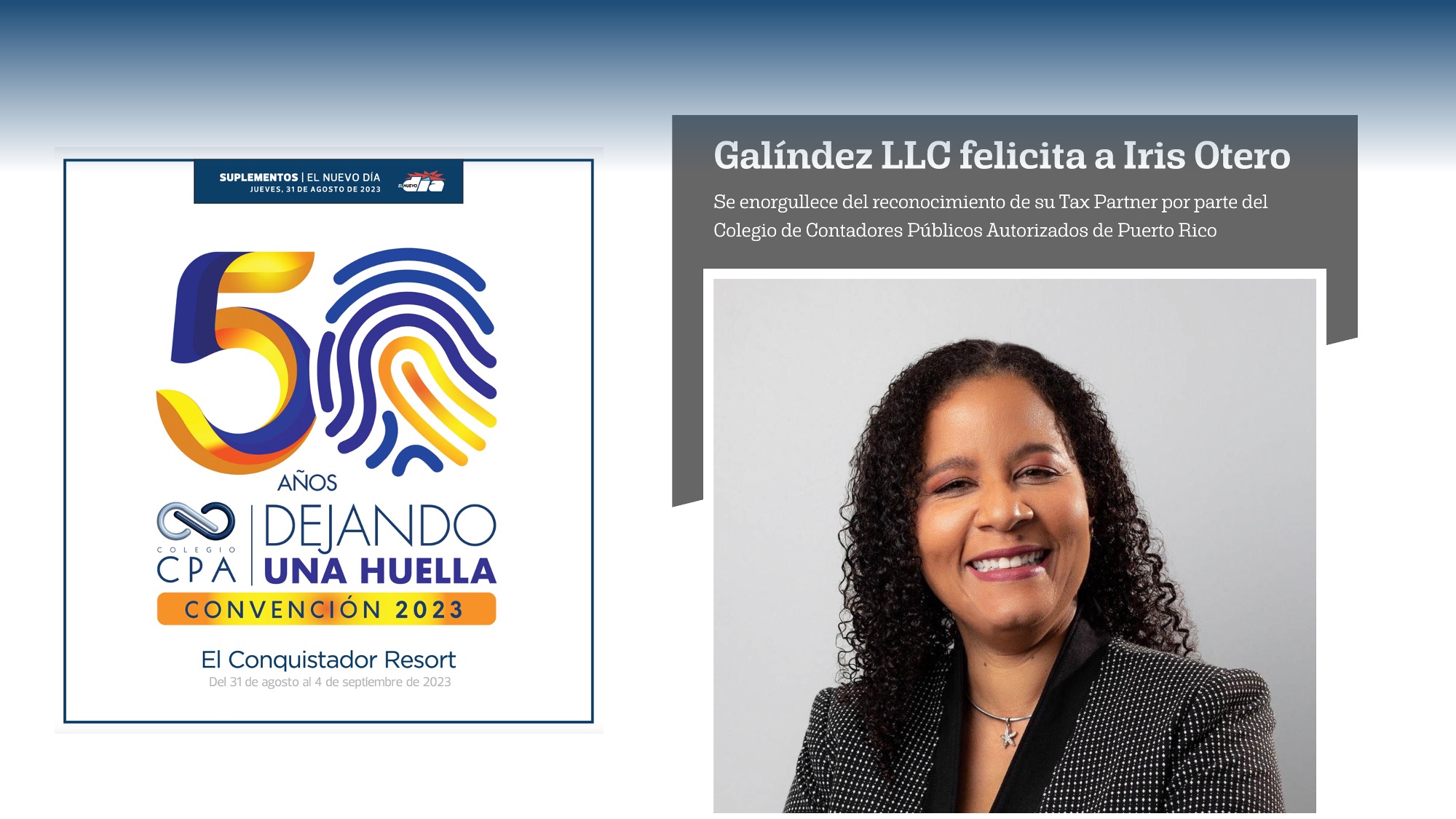 01 Sep

Our Own Iris Otero is Recognized for Her Outstanding Achievement in Local Accounting

At Galíndez LLC, we are proud that the honor of being recognized as CPA of the year by the Puerto Rico Society of Certified Public Accountants (CCPA) falls to our Tax Partner, Iris N. Otero, CPA, Esq., CGMA. Iris is not only an important professional in our industry but is also a pillar in our firm, with more than 28 years of experience in tax consulting for clients in various industries such as manufacturing, services, retail, and health, among others, including Nonprofit organizations. Her career includes six years at a Big Four firm and five years as Legal Advisor to the Puerto Rico Department of the Treasury. She has been a speaker at seminars sponsored by the Puerto Rico Society of Certified Public Accountants, the Health Financial Management Association (HFMA), the PR Hospital Association, and other professional and educational organizations of lawyers. She is also an instructor in training from the Treasury Department. Otero is a member of the American Institute of CPA and an active participant in the Healthcare Management Association and the CPA Society of PR, being President of its Tax Legislation Committee for four consecutive years. Her outstanding career and dedication make her deserving of this prestigious recognition. El Nuevo Día, one of the top local new publications, also highlighted her track record in the industry with an insightful article. 

Galíndez LLC, a leading accounting and auditing firm in Puerto Rico, has maintained a solid and collaborative relationship with the Puerto Rico Society of Certified Public Accountants and the business community on the island for many years. Throughout the years, Galíndez has demonstrated its commitment by actively participating in events, seminars, and activities promoted by the CCPA, contributing valuable insights and perspectives. In addition, his presence in the business community has translated into expert advice and innovative solutions for various companies in Puerto Rico, strengthening the local economy and contributing to the growth and sustainable development of the island. Their dedication to excellence and collaboration has positioned them as an influential player in the accounting and business fields of Puerto Rico. Learn more about what makes us stand apart in our About section.